Setting up Your PureWick™ System
The PureWick™ System is easy to set up from start to finish. Learn how to correctly set up the system at home with our step-by-step instructions below or watch our training video.
What's in the box?
Before assembly, please review the components of the PureWick™ System: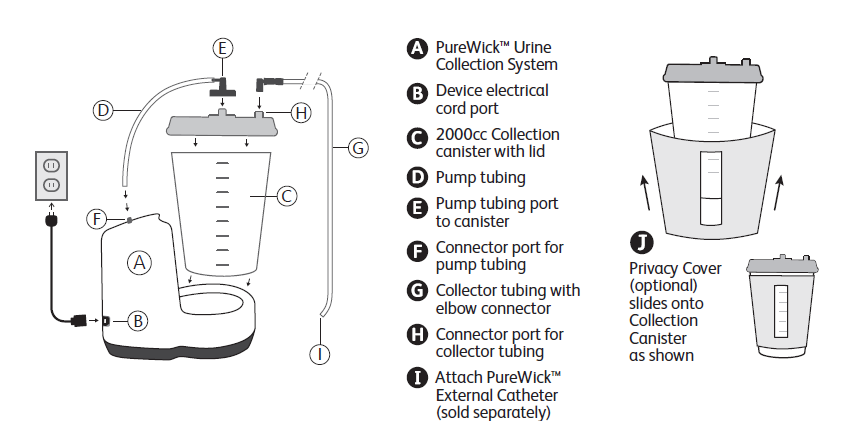 Step-by-step Instructions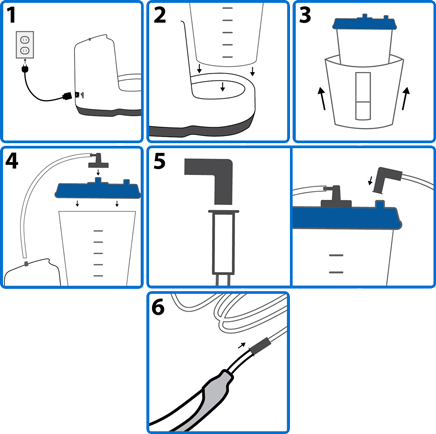 Plug the power cord into device outlet and into an A/C power outlet. Note: Make sure the power switch is turned OFF.
Place the collection canister in the base and press down firmly on the lid of the device making sure lid is sealed.
Optional: If you are using the optional privacy cover, slip the cover onto the canister before placing the canister into the base.
Attach the pump tubing (short tube) to the PureWick™ Urine Collection System connector port and to the connector port on collection canister lid.
Attach the elbow connector to the collector tubing (long tube) and connect the elbow connector to the connector port on collection canister lid.
Connect other end of collector tubing (long tube) to a PureWick™ External Catheter.
Frequently Asked Questions
Have questions? This helpful link answers the most frequently asked questions.
PureWick™ System Tips & Troubleshooting
For helpful tips on setting up, using, and cleaning your PureWick™ System, check out our Tips & Troubleshooting section.
* Prescription not required. Non-covered by Medicare. Patient responsible for full payment at time of purchase. It is the customer's responsibility to determine whether the product is covered by commercial insurance and to directly seek any reimbursement to which the customer may be entitled.