Please review these important instructions on how to use your PureWick™ System in this step-by-step video or by reading the instructions below.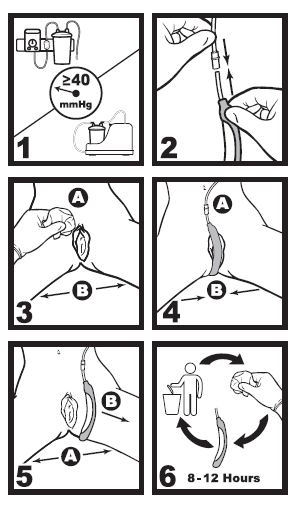 1. Follow instructions for setting up your PureWick™ System
For help and detailed instructions, visit our Setting up page.
2. Place the PureWick™ Female External Catheter
Perform perineal care and assess skin integrity.

Separate legs, gluteus muscles, and labia. Palpate pubic bone as anatomical marker.

With soft gauze side facing patient, align distal end at gluteal cleft.

Gently tuck soft gauze side between separated gluteus and labia.
3. Removal and maintenance
Fully separate the legs, gluteus, and labia

To avoid potential skin injury upon removal, gently pull the PureWick™ Female External Catheter directly outward.

Ensure suction is maintained while removing the PureWick™ Female External Catheter.

Replace at least every 8 to 12 hours or if soiled with feces or blood. Assess skin for compromise and perform perineal care prior to placement of a new PureWick™ Female External Catheter.

The PureWick™ Female External Catheter (FEC) is designed for single-use only. Attempting to wash, sanitize, and/or reuse the FEC may contribute to a risk of infection or illness, and may compromise the structural integrity and materials of the wick. This could contribute to device failure and patient/user injury.
Still Have Questions?
Have questions? These helpful links answer our most common questions.
Download the Getting Started guide
* Purewickathome.com, operated by C. R. Bard, Inc., is neither a Medicare or Medicaid enrolled or participating supplier, nor participating with any commercial insurance plans and will not submit claims or collect reimbursement for orders placed on this website. Items sold are not covered by Medicare or Medicaid and are cash sales only. Even if you are Medicare or Medicaid beneficiary, or have commercial insurance, you will be personally and fully responsible for payment for any items purchased.