Purchase the PureWick™ System Without a Prescription**
You don't need a prescription or doctor visit to get started with the PureWick™ System!**
How to Get Started with the PureWick™ System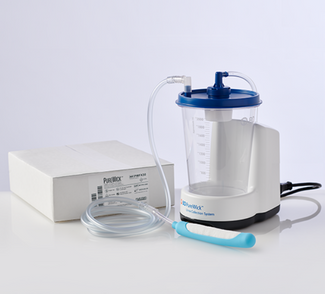 We recommend you start with the PureWick™ Urine Collection System Starter Set, available with or without a battery. The set contains the PureWick™ Urine Collection System, 2000cc (mL) collection canister with lid, pump tubing, collector tubing with elbow connector, two privacy covers, power cord and a box of (30) PureWick™ Female External Catheters to get you started. The set with battery also contains a rechargeable lithium-ion battery.
Ways to Pay
You can purchase the PureWick™ System using your American Express, Discover, Mastercard, or Visa credit card. You'll save 10% on your first online order when you order a Starter Set.*
*All discounts, if any, provided to the products purchased are intended to comply with the federal Anti-Kickback Statute, 42 U.S.C. § 1320a-- Kickback Statute, 7b (b) and the discount safe harbor regulations, 42 C.F.R. § 1001.952(h). In accordance, Liberator will fully and accurately report any discount on invoices, statements, or reports submitted to the customer. Where applicable, the customer agrees to report, properly disclose and appropriately reflect, the net prices and discounts of the equipment and the supplies received hereunder in any costs claimed or charges submitted to Medicare, Medicaid or any other Federal or state health insurance program requiring discount disclosures.
**Prescription not required. Non-covered by Medicare. Patient responsible for full payment at time of purchase. It is the customer's responsibility to determine whether the product is covered by commercial insurance and to directly seek any reimbursement to which the customer may be entitled.